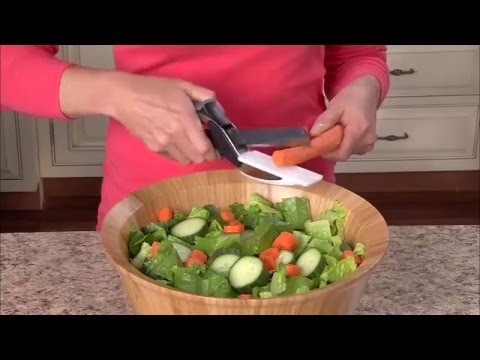 Multifunctional scissors for cutting vegetables, fruits and meat - 2 in 1 knife and board
What happens if you combine kitchen scissors and a cutting board for products?
The Clever Cutter, a hand-held food chopper or food chopper, combined many of the functions of a large knife for cutting vegetables and fruits, kitchen scissors and a cutting board. Allowing to speed up the cooking process, dispensing in many cases without such a board and slicing the food directly above the pan, bowl or plate.
The Clever Cutter design, slightly resembling a garden pruner, is equipped with a massive handle mounted on a metal holder with a horizontal plastic plate in place of the lower blade - and a wide rectangular blade at the top.
Clever Cutter manual food chopper provides slicing a wide range of products
According to the developers, it is this design that provides the widest possible use of a manual food chopper. The device is suitable for cutting vegetables and fruits for cooking or fresh salads, thin sausages, slices of meat, hard cheese, bunches of greens, carrots, parsley and other roots for soup, other products for heat treatment or for eating raw.
The knife blade is made of quality German steel. The food chopper provides easy slicing of most products, with the exception of viscous substances, and requires minimal maintenance, which is a rare sharpening.
Clever Cutter is dishwasher safe.
Tags: utility, cutter, knife, board, stainless, steel, kitchenware