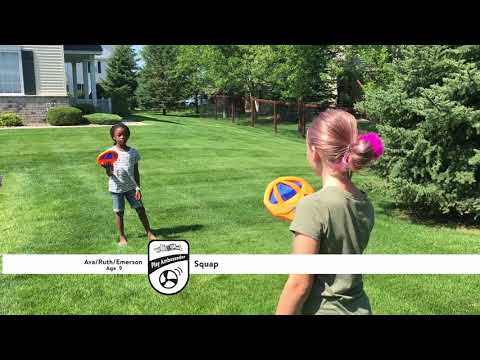 Catch the ball (squap) - an interesting and exciting game for children (from 8 years old) and adults, which you can play on the street or indoors, without fear of breaking something.
Catch the ball is a game for children who love outdoor games. Such a game set should have every little fidget. The original design and variety of functionality will make the game interesting and exciting, as well as cause the child to enjoy. This fascinating, sports game is perfect for playing on the sports field, at school, on the beach park and indoors.
The game separately resembles badminton or tennis: it also needs to catch and hit the ball.
The game is suitable for the development of early baseball skills. Squap is the perfect teen game to practice catching and develop your baseball skills as a catcher in order to prepare them for a real game.
With the mobile game Catch the ball you can have fun with a company of any age: to organize real tournaments and team championships.
The process of the game is very simple: insert your thumb under the small adjustable strap on the glove-trap, and place the rest of your fingers under the big strap on its reverse side. Put the ball in the trap, and then quickly open the glove - the ball quickly flies forward. The second player must use his skill and catch the glob from the first player with his glove.
The game can be played both together (by the company) and alone, throwing the ball upwards or shooting the ball against the wall and then trying to catch it.
The game Catch the ball (Squap) well develops:
hand-eye coordination;
Attention;
memory;
agility.
Color: yellow & black
Tags: Catch the ball (squap) - family game, , For your health and beauty