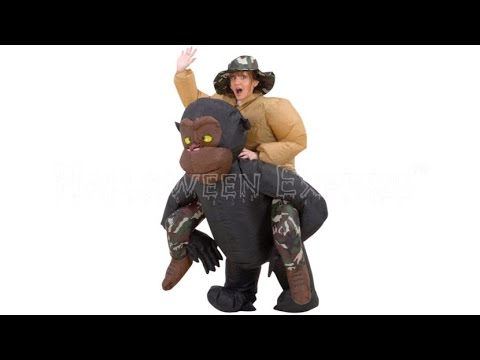 The device is powered by a 4 x AA battery

The battery is not supplied.

Please tick the box 1. to purchase 4 x AA + 3 Eur
Inflatable suit for stag parties, hen parties, children's parties - Indiana Jones air suit riding a gorilla.
The brave rider's costume is more like inflatable pants. Only these pants have an unusual shape for us. The rider's legs are hidden in the hind legs of the gorilla, and the inflatable mini-legs by the belt create the illusion of the rider's legs. The suit does not restrict movement. It can walk, jump, run and show cool gorilla riding skills.
To use the suit, all you have to do is run a compact compressor that will blow air. The compressor is located in a special pocket and does not restrict the rider at all.
The compressor runs on 4 x AA batteries (not included)
Battery lasts several hours
Inflation - 60 seconds
The suit can be easily cleaned with a cloth, hand wash in cold water is also possible
Goods pick-up from Sikumi.lv warehouse in Varaviksnes gatve 8, Riga: working days, at 12.00 or 18.00 - free of charge.
Postomat delivery in the Baltics: 2-3 working days - from 3 Eur.
Courier delivery in the Baltics: 1-3 working days - from 10 Eur.
DHL Express or Latvian Post worldwide shipping - from 10 Eur.
Tags: inflatable, gorilla, costume, fancy, dress, for, hen, stag, party, apparel, footwear, outfit