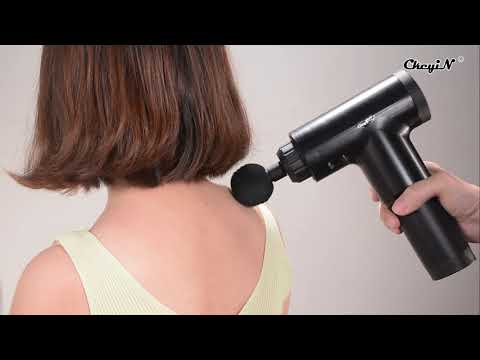 Fascial Gun Wireless Percussion Massage Gun with 4 Interchangeable Nozzles
The Fascial Gun massager is a simple but effective device that helps maintain muscle tone and figure correction. Fascial Gun through vibration acts on all muscle groups, helps relieve pain, it is effective for treating and restoring the natural work of muscles and internal organs, reducing the manifestations of cellulite.
The Fascial Gun Muscle Massager uses a vibration therapy method that combines a specific amplitude, vibration frequency and torque from the massage element. The effect is achieved by acting on the inner layers of the tendons, muscle tissue and fascia, which do not cause pain. The massager is made in an ergonomic form in the form of a pistol, it sits comfortably in the hand, it is convenient to use. There are 4 nozzles in the kit, for influencing certain muscle groups of the legs, buttocks, back, chest, wrists and ankles. The optimal duration of the session is 15 minutes, it works from the built-in battery.
Tags: Fascial Gun Wireless Percussion Massage Gun with 4 Interchangeable Nozzles, ,