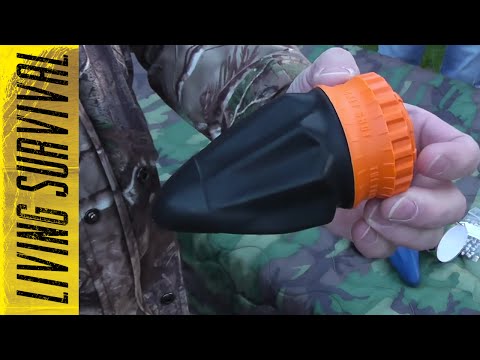 Supply Kit
Pocket Shot Slingshot with a regular latex bag
Reinforced latex bag
Arrow 40 cm
Hammer Hand Holder with Wrist Brace is not included.
The Pocket Shot is the evolution of the slingshot.  The patented circular design allows users to load and shoot different projectiles at two to three times the rate of a regular slingshot.
Perfect for hunters and recreational use as its tiny size allows you to keep it in your pocket, tackle box, or backpack while storing ammo in its watertight compartment.  
Up to 350 feet per second, the Pocket Shot is not a toy.   Created and built in the USA, the Pocket-Shot team takes pride in their invention and hopes you enjoy it as much as we do.
When the Pocket Shot is in use, it measures 5 inches long but the Pocket Shot measures only 2.3 inches by 1.3 inches when it is closed.
We recommend to use 1/4 inch up to 5/16 inch steel slugs, marbles, small paintballs around .4 cal, and airsoft for the Pocketshot.  We DO NOT recommend BB's as they will tear the pouch and may be dangerous.
Tags: Pocket-Shot Archery Kit, Pocket-Shot, Airsoft, paintball, lasertag