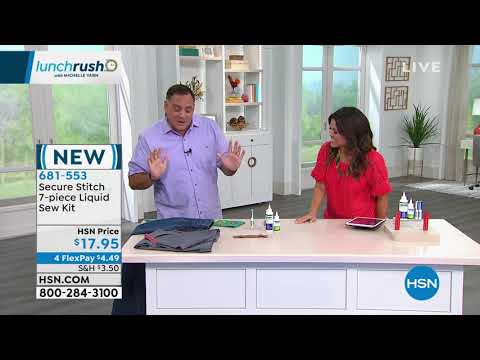 Secure Stitch Universal Fabric Adhesives

 
The all-in-one Secure Stitch Fabric Adhesives are a fast, easy sewing alternative that eliminates the need for needle and thread! The perfect set for all your urgent sewing needs. Creates a transparent, colorless, elastic, durable, washer and dryer resistant. Great for cotton, denim, felt, fleece, leather, suede, polyester, rayon, fibers, velvet and more. Ideal for quick and effective clothing repair.
Secure Stitch, a versatile fabric adhesive, quickly and easily binds fabric tears, patch holes and hemming garments. Save money and time with the 7-piece Secure Stitch Liquid Sewing Kit. 7-piece set includes: bottle with natural fabric glue, bottle with synthetic fabric glue, silicone applicator, 2 containers with a convenient applicator, tissue clips.
Benefits:
Quickly and efficiently glues various types of fabric;
The set includes a convenient glue applicator;
Convenient clamps for tissue fixation;
Transparent and flexible glue texture.
Main characteristics:
Type: fabric glue;
Packing size: 11x4x16 cm;
Weight: 350 g.
Equipment:
Adhesive for natural fabrics.
Adhesive for synthetic fabrics.
Silicone applicator.
A container with a convenient applicator (2 pcs.).
Clips for fabric (2 pcs.).