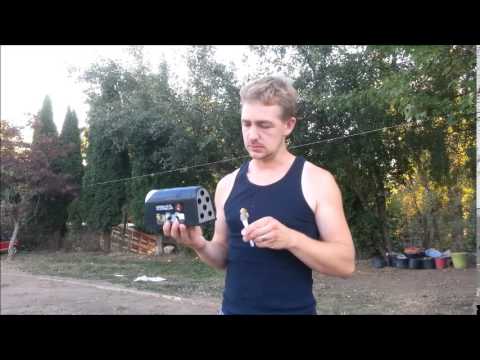 The electric trap of the OUTAD kills the rodents with a powerful electric discharge that instantly kills the rats, instead of the exhausting use of toxic chemicals and dangerous traps.
A compact block-cell does not take up much space.
The rat-trap is equipped with a fuse to prevent the possibility of an electric shock for a person.
Powered by a battery or adapter 220V.
Ideal for any room.
Control:
Step 1: Put a piece of meat, cheese or bread deep into the block.
Step 2: Insert 4 pieces. battery in the battery compartment or connect the DC-6V power adapter.
Step 3: Determine the place of the rat activity along their paths or tracks. Place the device on the floor in front of such trails. Make sure that the entrance to the line coincides with the path, paying attention to the fact that rats prefer to travel along the walls.
Step 4: Press the ON button. The module will turn on, the green LED will flash, indicating that the unit is turned on.
To prevent accidental electrical shocks, avoid contact with metal surfaces.
Do not touch the bottom of the unit when the unit is turned on.
Options:
Black color
Material: ABS
Battery: 4 * 1.5V battery type C - barrel (not included)
Static Operation Current: ≤ 50uA
High Voltage Operating Current: ≤ 380ma
High Voltage: 7000-9000V
High voltage charge time: 4 minutes
Low battery indicator: 4.8V ± 0. 2 V
Adapter cable length: 117 cm
Product Size: 213 * 100 * 120mm
Product Weight: 568 g
Package Weight: 638 g
Note:
Improper use of the product may cause electrical shock or serious injury.
Never place the product near children, small pets, combustible materials, etc.
Never use the device on a damp surface to avoid increased power leakage.
Contents of delivery:
1 * Electric looter OUTAD
1 * Power adapter
Tags: Electric rat and mouse trap - high voltage electric current rodent killer, OUTAD Rat Killer, Security