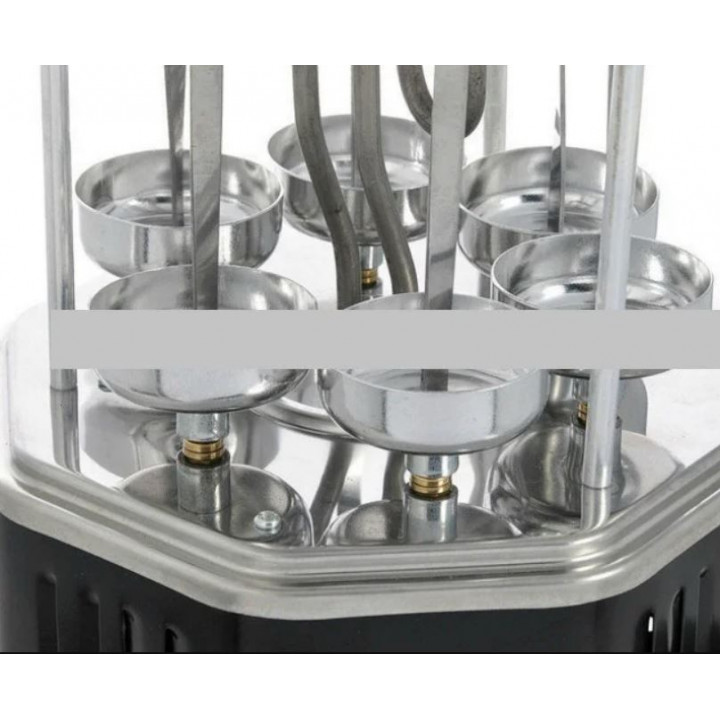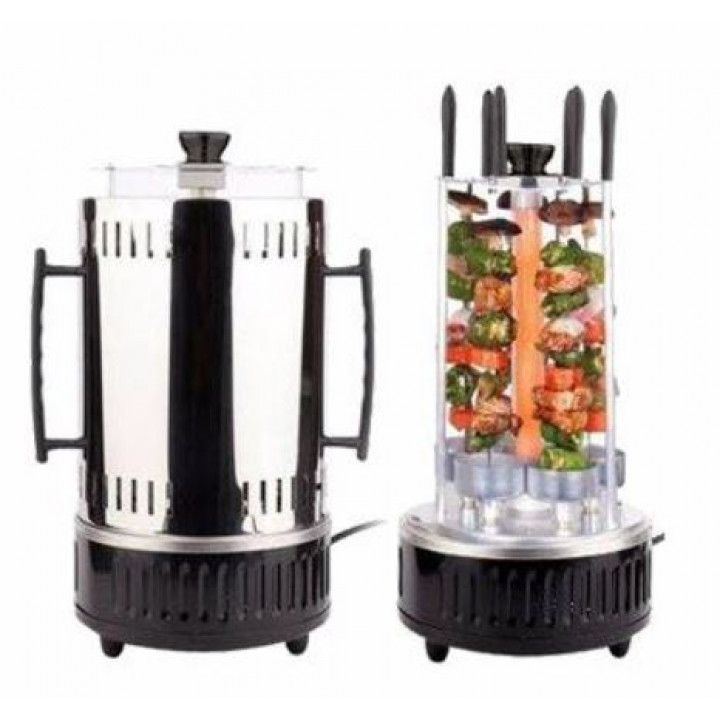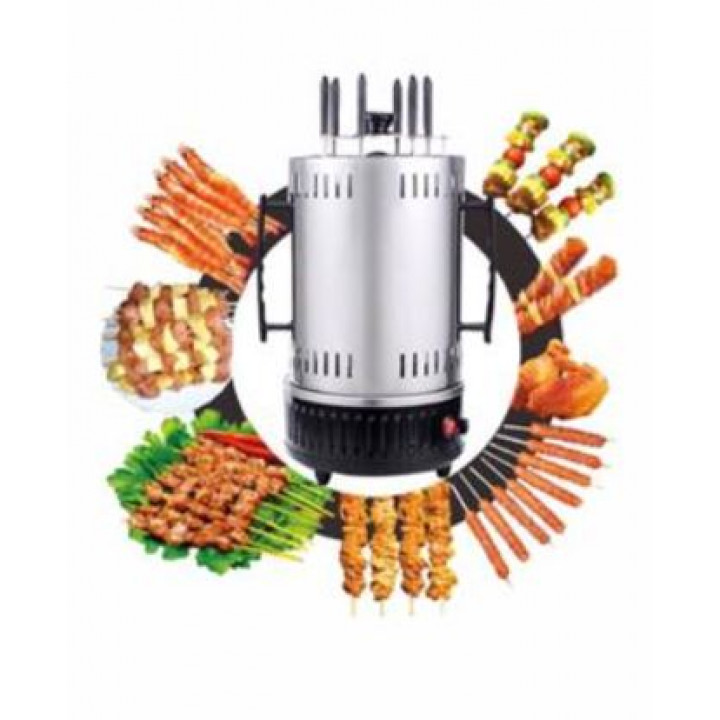 * The goods can differ from the seen on the above picture
Doner Grill Electric Vertical BBQ skewer Grill Machine Domotec
Product Code: BBQ Domotek
Availability:

In Stock
Doner Grill Electric Vertical BBQ skewer Grill Machine Domotec
Döner, Gyros & Schaschlik have a barbecue at home!

• Powerful doner kebab for up to 4 kg of meat
• Large center spit for kebab, gyros, chicken, leg of lamb and others.
• 6 extra skewers for shashlik, vegetable skewers, fish and more.
• Skewers rotate 360 ​​° - for even heat distribution
• Easy to clean thanks to removable stainless steel elements

Barbecue without additional oil and fat!
Enjoy freshly grilled kebabs, gyros or grilled chicken at home! With the "GOURMETmaxx" doner kebab this is really easy: on the large center spit your food rotates 360 ° and is cooked evenly from all sides. Thanks to the open design, you can cut kebab and gyros directly from the spit and serve them - just like the grill around the corner! The "GOURMETmaxx" kebab grill can do even more: the six additional skewers are ideal for shashlik, vegetarian vegetable skewers or fish. The spits turn independently of the spit around its own axis and the food is browned so appetizingly. Due to the vertical position, the grease immediately flows into the stainless steel drip tray. This is easy to clean and dishwasher safe. Overall, this doner kebab has a capacity of up to 4 kg of meat. Incl. large center spit and 6 additional spits.

Technical specifications:
Material: PA, stainless steel
Dimensions (L x W x H): approx. 25 x 25 x 36 cm
Power: 220-240 volts, 50 Hz, 1000 watts
Notes: The appliance is designed for grilling doner kebabs, gyros, whole chicken and kebab skewers.
The distance from the incandescent lamp to the skewer is 3 cm
Doner Grill Electric Vertical BBQ skewer Grill Machine Domotec 5 skewers
Supply kit:
Electric barbecue - 1 pc.

Case - 1 pc.

Skewers - 5 pcs.

Cups - 5 pcs.

User manual - 1 pc.

Service book - 1 pc.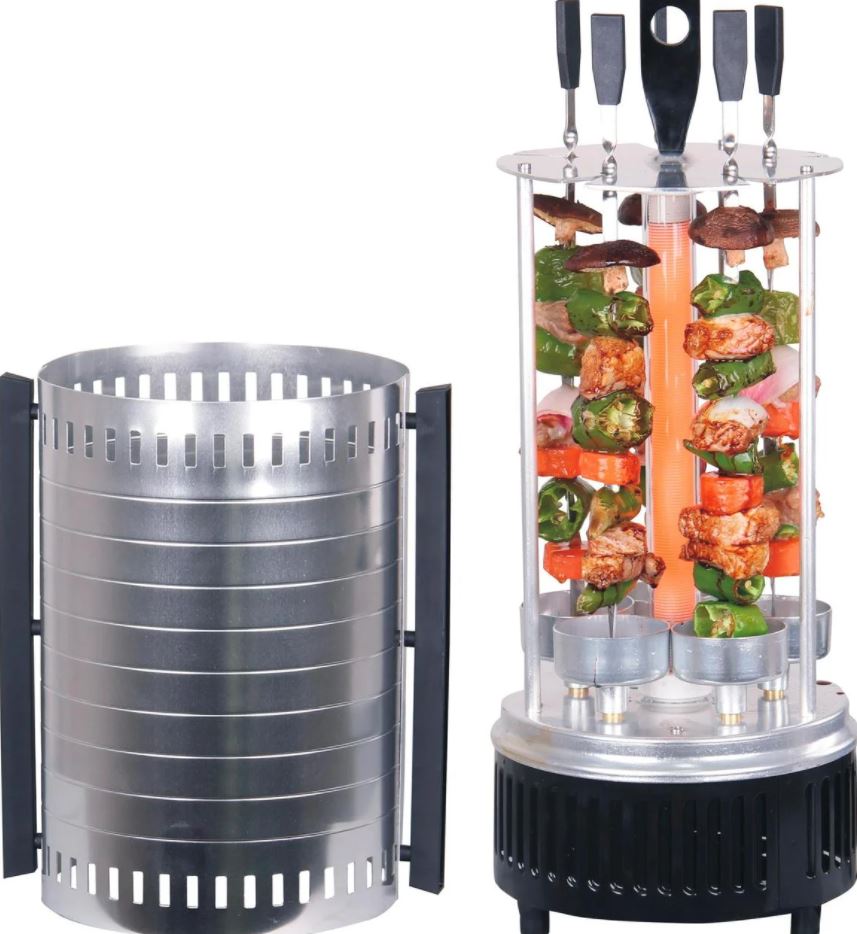 Goods pick-up from Sikumi.lv warehouse in Varaviksnes gatve 8, Riga: working days, at 12.00 or 18.00 - free of charge.
Postomat delivery in the Baltics: 2-3 working days - from 3 Eur.
Courier delivery in the Baltics: 1-3 working days - from 10 Eur.
DHL Express or Latvian Post worldwide shipping - from 10 Eur.
Tags: Nerūsējošā, tērauda, elektriskais, vertikāls, šašlika, grils, rotējošais, iesms, Domotek, электрическая, вертикальная, шашлычница, вертел, кебаба, Domotec, Doner, Grill, Electric, Vertical, BBQ, skewer, Grill, Machine, Domotec,