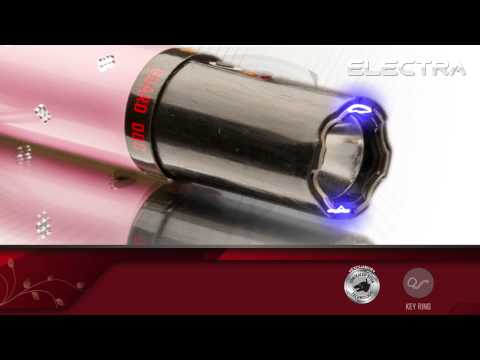 Self-defense device for women - stun lipstick
This is a stylish model made in the form of lipstick, designed for the female sex. The tiny size and simplicity of management make this shocker the leader in the price category. It fits easily in a pocket of clothes or a handbag.
Well repels dogs, highlighting the ozone smell and creating a frightening sound for them from the crackling discharge.
To illuminate the road, use the LED flashlight. The diode from the manufacturer CREE provides illumination at a distance of 15-20 meters and is able to blind the enemy.
What is the power of the flashlight-shocker?
The coolest stun gun in watts has less power than a flashlight (2-3 watts). But it is not Watts that "beat", but Volts - but the voltage on its contacts is a good shocker that generates stunning in the truest sense of the word. A discharge of tens of thousands of volts - the device produces a very short pulse with such a voltage. But a couple of seconds is enough to paralyze the muscular system of even a man with the dimensions of Arnold Schwarzenegger in his prime.
Goods pick-up from Sikumi.lv warehouse in Varaviksnes gatve 8, Riga: working days, at 12.00 or 18.00 - free of charge.
Parcel machine delivery: Latvia - 24h, Lithuania, Estonia - 2-3 working days. From 3 Eur
Courier delivery in the Baltics: 1-3 working days - from 13 Eur.
DHL Express or Latvian Post worldwide shipping - from 13 Eur.
Tags: Self-defense, device, for, women, stun, lipstick, shocker, female, электрошокер, губная, помада, средство, самозащиты, для, женщин, elektrošokeris, lūpu, krāsa, pašaizsardzības, ierīce, sievietēm