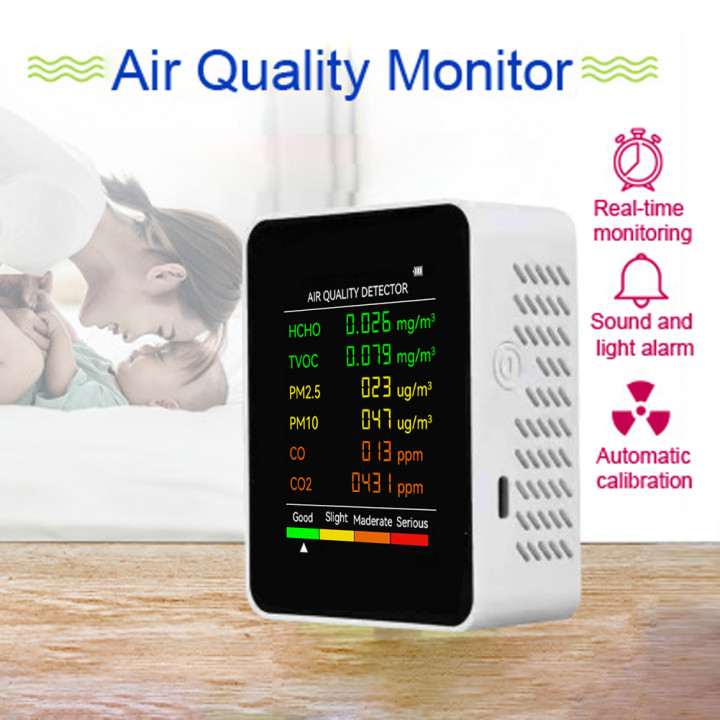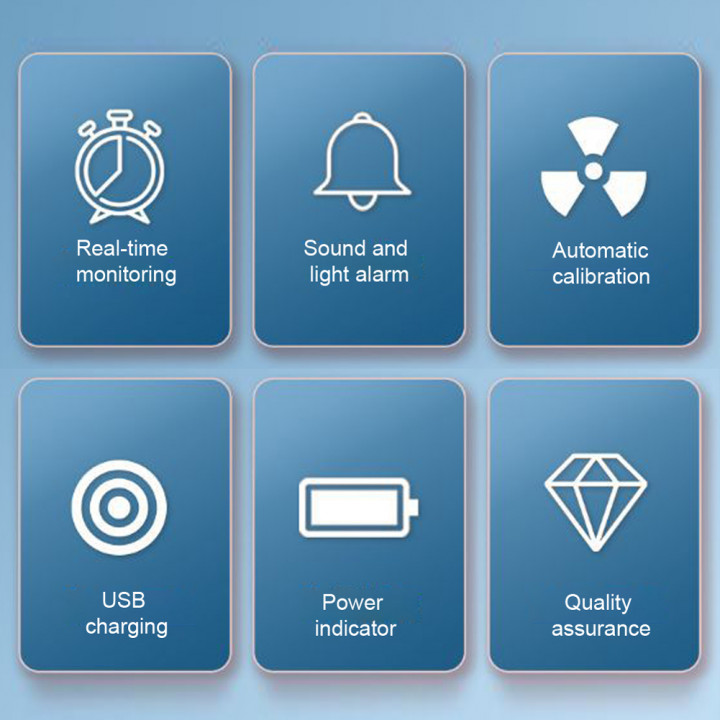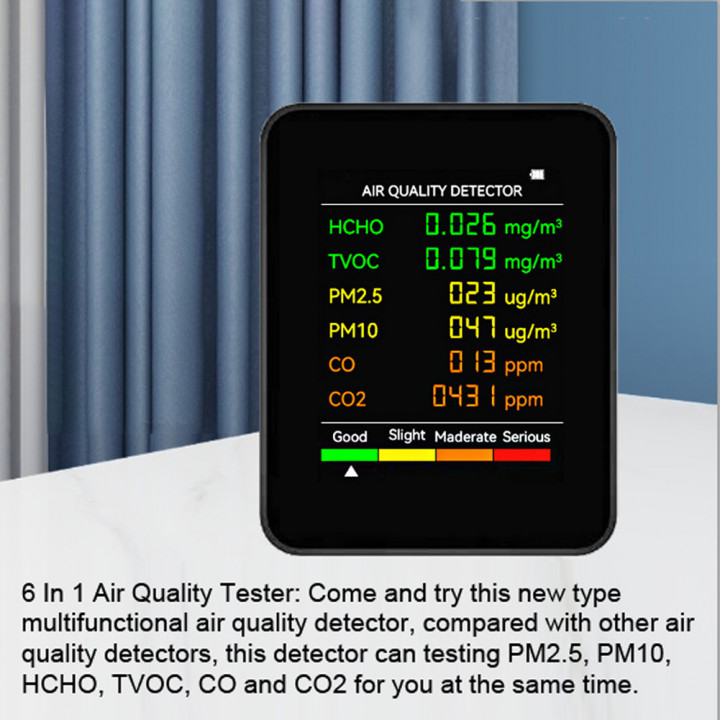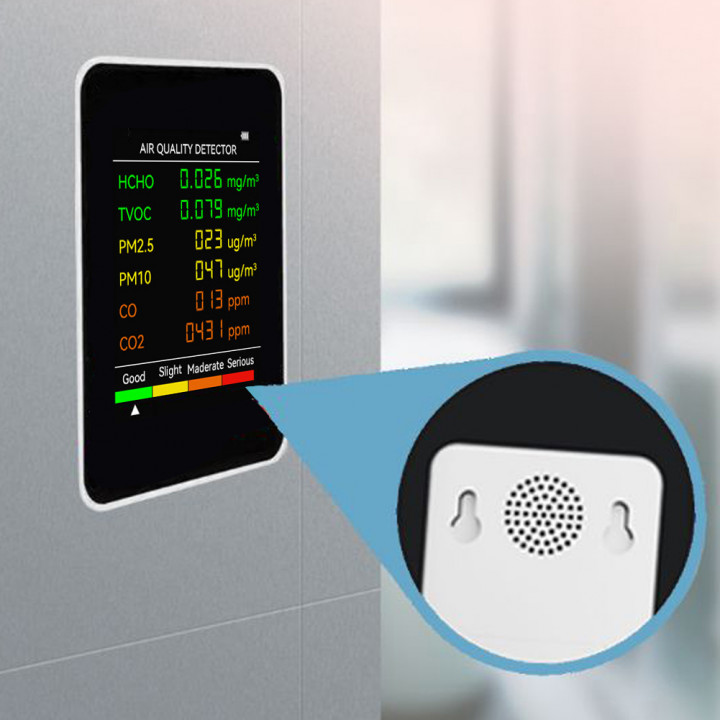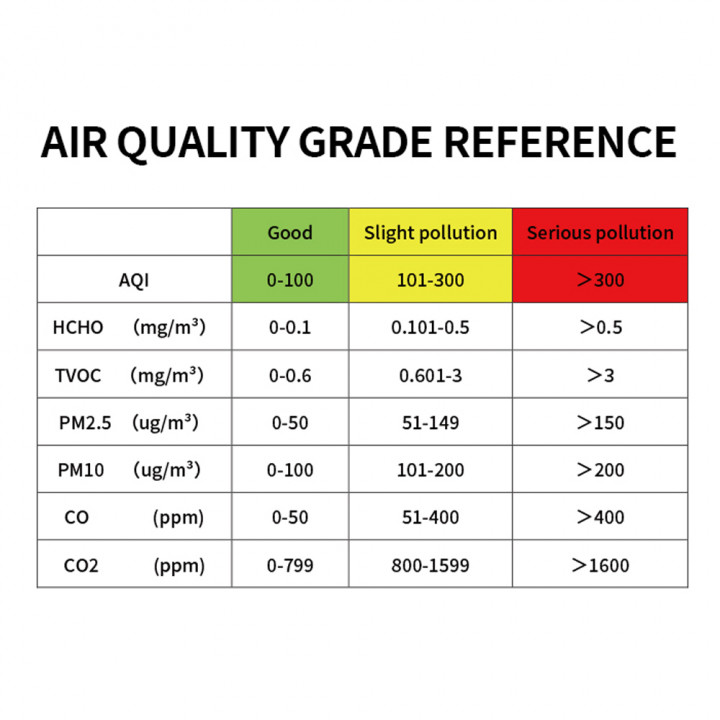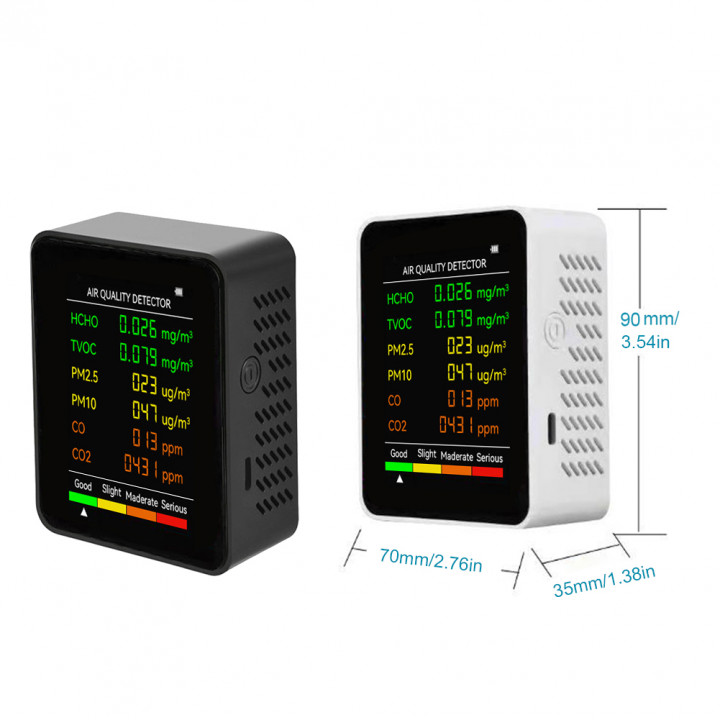 * The goods can differ from the seen on the above picture
RENT. Carbon Dioxide CO2 Sensor Portable Air Quality Meter Analyzer Air Pollution Monitor Detector Temperature Humidity Control Tester Weather Station
Product Code: RENT. Carbon Dioxide CO2 Sensor
Availability:

In Stock
RENT. Carbon Dioxide CO2 Sensor Portable Air Quality Meter Analyzer Air Pollution Monitor Detector Temperature Humidity Control Tester Weather Station
Rent price:
1. One (1) day - 15 Eur
2. Security deposit - 50 Eur, returned upon return of the goods if no damage or defects are found and the device works
CO2 is a product of our breath, and the more people in the room, the faster its concentration increases. If you feel normal at a level of carbon dioxide of 600-800 ppm, then at a level of more than 1000 ppm, weakness, absent-mindedness, and a feeling of stuffiness appear. The carbon dioxide concentration sensor is a compact device with a small display.
The level of carbon dioxide content is indicated by four LED signals:
Green: 0~799ppm
Yellow: 800~1199ppm
Orange: 1200~1599ppm
Red: 1600~1999ppm
The 5-in-1 Air Composition Meter helps you monitor the amount of CO2 in a room, formaldehyde concentration HCHO, total volatile compounds TVOC, and temperature and humidity. Such a device will notify you in time about a certain level of concentration in the air of a particular substance using a color wheel on a large LCD display.
Functions:
carbon dioxide detection, hazard assessment
temperature sensor
humidity sensor
Applications: home, apartment, premises, agricultural premises, greenhouses, industrial warehouse, material processing, home interior, etc.
Characteristics:
Material: ABS
Display mode: LED digital display + LCD screen + backlight
CO2 detection technology: infrared
CO2 measurement range: 400-5000PPM
CO2 detection sensitivity: 1ppm
Temperature measurement range: 0-50 °C
Temperature measurement accuracy: ± 1 °C
Humidity measuring range: 0%-99%RH
Humidity measurement accuracy: ± 2% RH
Battery capacity: 1200mAh lithium battery
Charging port: 5V Type-C port
Package size: 140 x 125 x 42 mm
Weight: 165 g
Goods pick-up from Sikumi.lv warehouse in Varaviksnes gatve 8, Riga: working days, at 12.00 or 18.00 - free of charge.
Parcel machine delivery: Latvia - 24h, Lithuania, Estonia - 2-3 working days. From 3 Eur
Courier delivery in the Baltics: 1-3 working days - from 13 Eur.
DHL Express or Latvian Post worldwide shipping - from 13 Eur.
Tags: NOMA. Oglekļa dioksīda CO2 sensors pārnēsājams gaisa kvalitātes mērītājs analizators gaisa piesārņojuma monitora detektors temperatūras mitruma kontroles testeris meteoroloģiskā stacija, АРЕНДА. Датчик углекислого газа CO2, портативный измеритель качества воздуха, анализатор, монитор воздушных загрязнений, детектор тестер контроля температуры и влажности, метеостанция, RENT. Carbon Dioxide CO2 Sensor Portable Air Quality Meter Analyzer Air Pollution Monitor Detector Temperature Humidity Control Tester Weather Station