Beads of charms in the form of traditional Scandinavian runes, an idea for a protective bracelet Younger Futhark
The price is for 1 (one) rune
If you want to add a special leather cord for the bracelet to the order, mark NR.1 - 5 Eur
If you want to purchase a set of 12 runes, mark NR.2 - 30 Eur
If you want to purchase a set of 24 runes, mark NR.3 - 50 Eur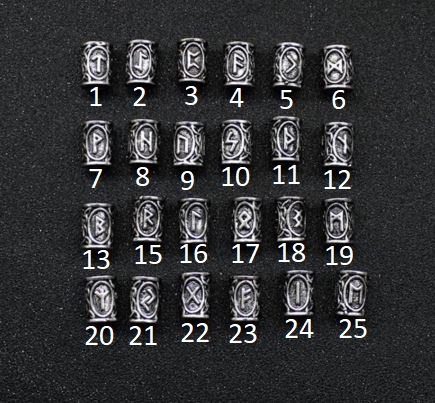 Runes will help to fulfill your innermost desires and attract good luck in your life!
This is not a fiction or a pun. If a person is in a losing streak or is having difficulty realizing what he wants, he can safely use the energy of the runes. This will help him to avoid the wrong actions and go to the lucky streak that brings him to a comfortable, happy life.
Fehu is a sign of financial well-being. It symbolizes the energy of creation that permeates human life. Use the sign if necessary to achieve a significant life goal and gaining material well-being.
Uruz is a symbol of the transition to the next life cycle. The symbol is used in situations where they are waiting for serious changes in life and seek to accelerate their approach. The same sign can be used by people in a crisis situation and wanting to overcome this period without big shocks.
Turisaz - has a very powerful protection potential from negative external influences. Increases the likelihood of a positive outcome in contentious situations. The symbol is very useful for timid and indecisive people to gain confidence in their own abilities.
Ansuz - helps to see and understand the secret, hidden and mysterious. A great symbol for those who in the professional field should discover the truth.
Raido is a sign of positive communication between people. This is a symbol of travelers, but it can be used by those who seek to establish lasting contact with the person they like.
Kenaz is a powerful incentive for the development of talent in people of creativity. This sign will help those who are in a creative or emotional crisis. Another meaning of Kenaz is to strengthen the potential of other runes if the amulet carries a combination of other symbols.
Gebo is a love rune. A very powerful sign for all lovers and spouses. He will eliminate all misunderstandings, establish harmony in relations, and lead to a happy marriage.
Vunyo - brings success in any endeavors, helps happy resolution of the most difficult situations. With injuries and ailments, Vunyo promotes a speedy recovery.
Hagalaz - symbolizes life changes. It can be of great help to people who expect significant changes but are not sure about their outcome. The same sign is very strong in repelling magic attacks - it is able to return magical negativity to the one who sent it.
Nautiz is a sign symbolizing calm and patience in order to overcome various difficulties. It helps to gain perseverance in achieving goals and survive crisis situations without serious consequences.
Isa - represents the slowdown or cessation of certain periods. He will assist in cases where a timeout is required to make the right decision.
Hyere - carries the meaning of well-being in many aspects of human life: finance, health, love, family relationships. Brings success in planned affairs.
Eyvaz - symbolizes a warning. The sign is very strong, but its application requires great knowledge of runic science and the greatest caution. This rune is very capricious, but its help is invaluable - with new beginnings, it will warn of possible risks and difficulties.
Perth is a rune that personifies the karmic course of events and is able to correct them. It is not recommended to use this symbol to people who are familiar with runic science only superficially. It is very dangerous to touch karmic situations, and the slightest mistake can lead to such life turns, which it is absolutely impossible to predict the consequences.
Algiz - this rune protects its owner from possible dangers and warning about them.
Soulou is a symbol of vital energy. Also, a very powerful sign, contributing to the development of intuitive understanding. An excellent symbol for restoring lost vital energy due to experienced karmic blows.
Teyvaz - a sign of the winners. A powerful rune that contributes to the fulfillment of ideas. This rune was especially honored by the kings. For people whose character is weak, this symbol will also be very useful.
Berkana - symbolizes the growth of personality in all aspects - spiritual, social and professional. It will provide invaluable assistance in making decisions that require balance and wisdom.
Evaz - symbolizes the movement forward. A charm with the Evaz rune is necessary for those who lack faith in their own forces when making significant decisions.
Mannaz - recommended for those who are excessively modest and cannot be the first to start a relationship with a possible future marriage partner.
Laguz is a symbol of water elements. A protective object with the sign of Laguz will save a person from internal unreasonable fears and emotional barriers to the implementation of the plan.
Inguz - represents the beginning of any situation. Work, acquaintance, road - in all cases, Ingus will ensure the right start and successful promotion.
Otala is a symbol of failure and retreat. This rune is useful in those cases when the time comes to free yourself from everything that burdens life.
Dagaz - personifies a complete willingness to commit an action. The symbol of Dagaz will give strength and confidence in achieving goals.
Goods pick-up from Sikumi.lv warehouse in Varaviksnes gatve 8, Riga: working days, at 12.00 or 18.00 - free of charge.
Postomat delivery in the Baltics: 2-3 working days - from 3 Eur.
Courier delivery in the Baltics: 1-3 working days - from 10 Eur.
DHL Express or Latvian Post worldwide shipping - from 10 Eur.
Tags: Beads, of, charms, in, the, form, of, traditional, Scandinavian, runes, an, idea, for, a, protective, bracelet, pērles, rūnas, aproce, bracelet, runes