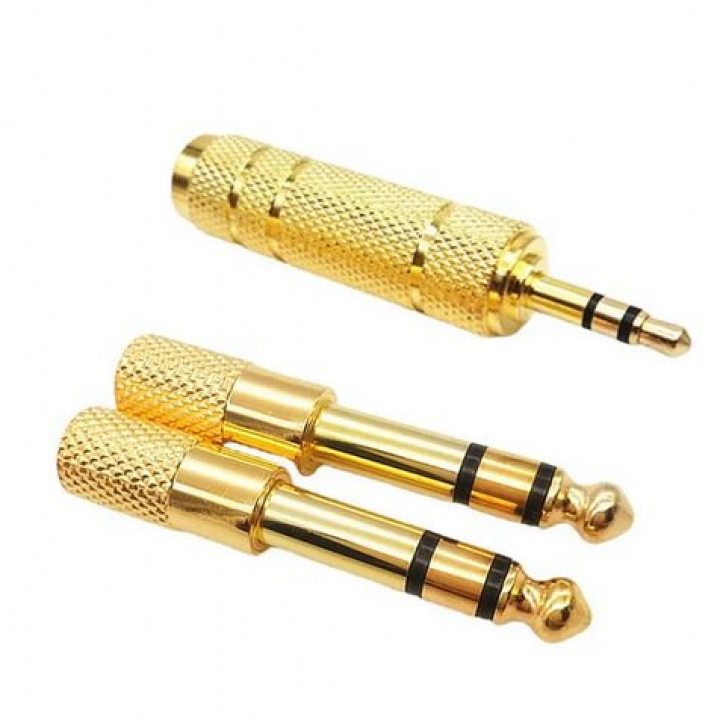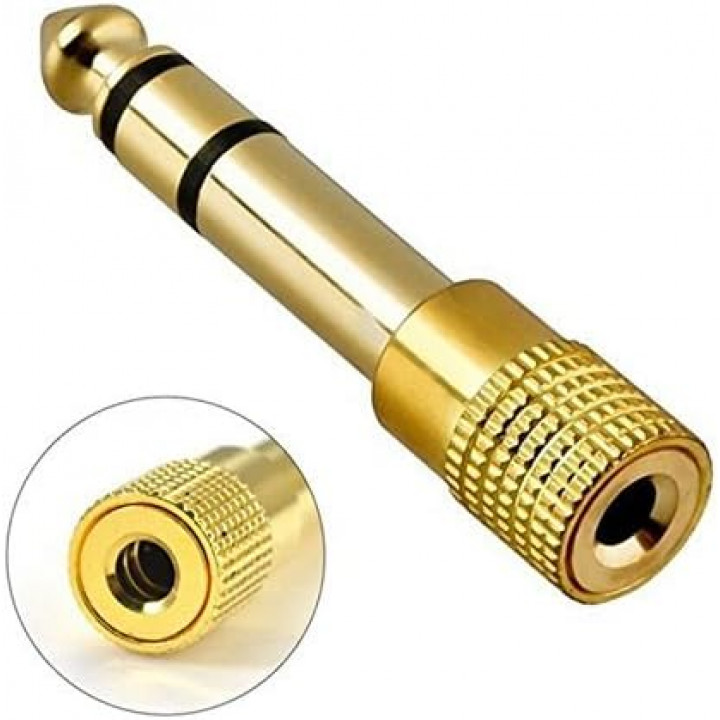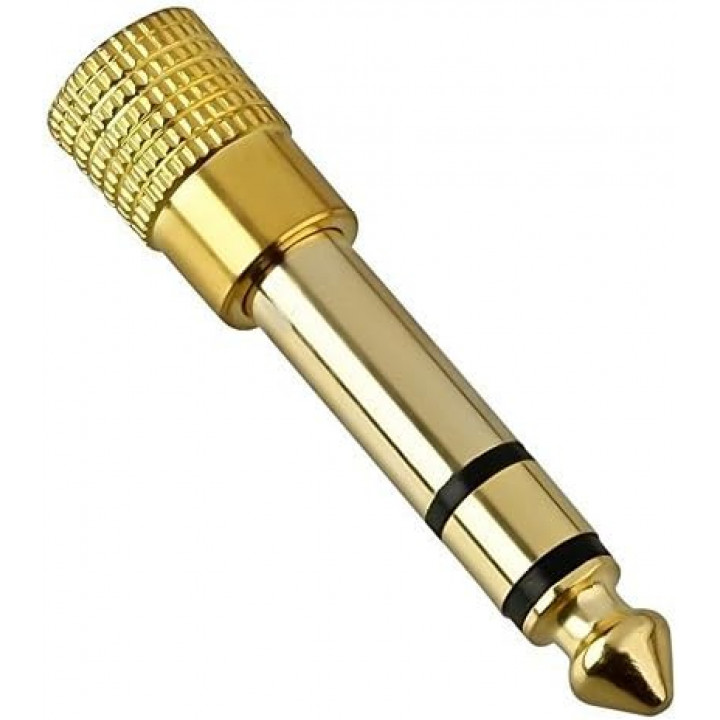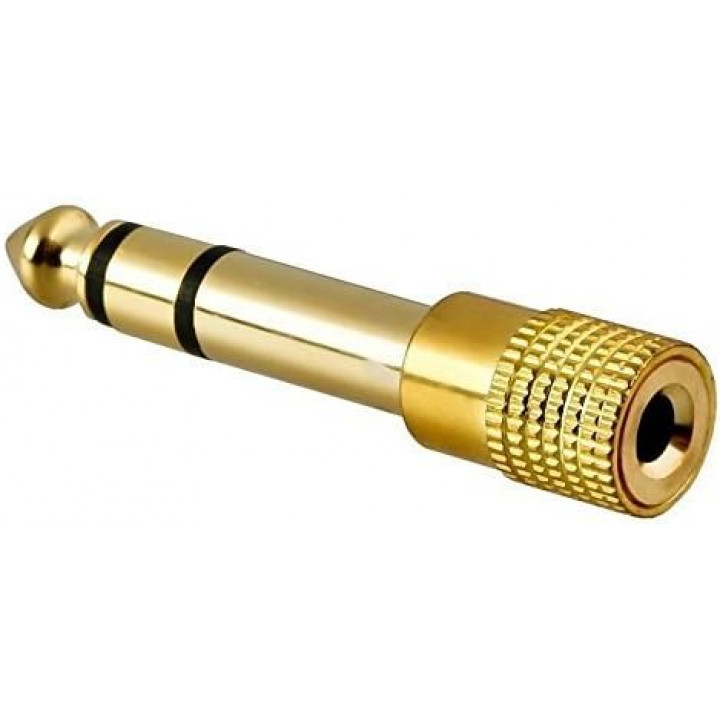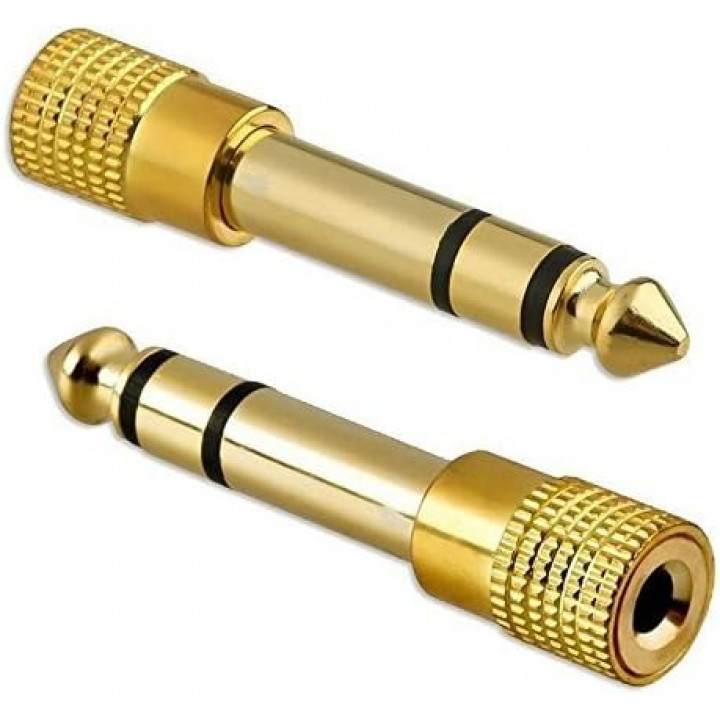 * The goods can differ from the seen on the above picture
Audio headphones and microphone adapter Maxi Jack 6.3 mm female to Mini Jack 3.5 mm male plug
Product Code: adapter Jacks
Availability:

In Stock
Audio headphones and microphone adapter Maxi Jack 6.3 mm female to Mini Jack 3.5 mm male plug
Headphone Adapter 1/4″ Female Jack to 3.5mm Male PlugStandard 3 pole (2 black rings) 3.5mm plug not compatible with devices that require a 4 pole (3 black rings) 3.5mm plug.
Connect your headphones that have a 1/8-inch audio jack, to a larger 1/4-inch jack to make it more versatile

Transforms your 1/4 -inch audio male into a 1/8-inch audio female

Gold plated for better signal transfer

Connects to threaded and non-threaded cables

Connectors: 1/4" 6.35mm audio Male to 1/8" 3.5mm audio Female
Features/Specs:
Adapter Type: Male to Female

Product Dimensions:

Length: 54mm

Width: 10mm
Application:
Headphone

Mobile phone

Computer, MP3/MP4, etc.
Package Includes:
1 x Audio Jack 6.3mm female jack to 3.5mm male plug
Please choose the direction of the adapter:
Maxi Jack 6.3 mm female uz Mini Jack 3.5 mm male
Mini Jack 3.5 mm female uz Maxi Jack 6.3 mm male
Goods pick-up from Sikumi.lv warehouse in Varaviksnes gatve 8, Riga: working days, at 12.00 or 18.00 - free of charge.
Parcel machine delivery: Latvia - 24h, Lithuania, Estonia - 2-3 working days. From 3 Eur
Courier delivery in the Baltics: 1-3 working days - from 13 Eur.
DHL Express or Latvian Post worldwide shipping - from 13 Eur.
Tags: audio, headphones, and, microphone, adapter, maxi, jack, 6, 3, mm, female, to, mini, jack, 3, 5, mm, male, plug, 3, 5, type, c, adapters, and, wires